Our Chair: Andrea Scott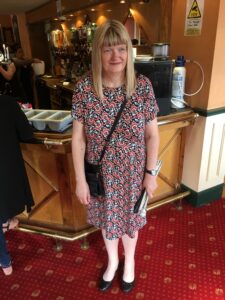 I lost my sight in 2010 which has left me with no useful vision. I am a Mum, Guide Dog owner and I live locally in Stoke on Trent.  I have worked in the voluntary sector for the last 9 years. My previous work was mainly in Customer Service.
I have been a trustee of Staffordshire Sight Loss Association since it formed in 2017 and I have held the role of Chair since early 2020. I am delighted to be part of this charity and look forward to helping lots of other visually impaired people. I only wish this Charity existed when I lost my sight.
---
Treasurer: Linda Dunn
NNEB BA (Hons) NPQICL MA.
I live locally in Stoke on Trent and I became a trustee in 2017 when I was elected to the role of Treasurer. I had previous experience completing accounts for my husband's business and in my career where I had overseen and managed budgets.
My career has spanned over 40 years working for Local Government in both the Education and Social Care Departments. My roles primarily were working with children pre-birth to adulthood, their families and with vulnerable people. I have worked in many roles and my later roles were as a Leader and Manager in which I have worked in partnership with many agencies and charities from the public and private sector.
I became involved with SSLA as I could see there was a gap in the provision of face to face services for visually impaired people. My own father became blind overnight after suffering a stroke.
I find volunteering for the charity highly rewarding and my skill set is transferable, so I have been able to use my many skills and abilities.
I am proud to be a trustee and volunteer at SSLA as I feel that the team provides extremely valuable services that make a lasting difference for people's lives. We have some fantastic volunteers and it is a privilege to hear of people's amazing journeys and be a part of their lives moving forward. I look forward to watching the organisation grow over the coming years.
---
Secretary: Sandra Barlow
I live in Stoke-on-Trent with my 2 children, I have an eye condition called Aniridia and both of my children have visual impairments. Due to this I became involved with a charity called Action for Blind People and started volunteering for them in 2014, this is where I met Staffordshire Sight Loss Association's founder Suzanne. I later became employed by Action for Blind People before moving on to work for other organisations in the third sector. I now work as an Administration Assistant for another local charity
Suzanne and I kept in touch and I became Secretary on the board of trustees for Staffordshire Sight Loss Association in 2017. This means that I am responsible for organising Committee meetings and for making sure that accurate records of meetings are kept but I also try to help out in other ways including at events.
---
Trustee: Ian Wiltshaw
In 1983 when I was 15 years old I was shot in my left eye with a bow and arrow; this blinded my left eye by detaching my retina. I later went to Queen Alexandra college for the blind in Birmingham studying woodturning and picture framing as well as business studies.
A few years later I started to develop problems with my right eye which consequently led to my being registered blind in 1992. In 1997 I started to work for the Stoke-on-Trent Workshops for the Blind and I stayed there for 17 years doing spot welding and packing in the Warehouse; it was the best time of my life until it closed down in 2013.
Around 12 months later I became a volunteer for Action for Blind People. I undertook long cane training with the Stoke- 0n-Trent City Council Rehabilitation Team whilst I was volunteering.  It was the best thing I ever did as it gave me the skills that I needed to get around independently.
Whilst at Action for Blind People I met Suzanne and in 2017 I was lucky enough to be asked if I would like to become a Trustee of Staffordshire Sight Loss Association. I told her that I would love to because it would give me the chance to try to help other people with sight loss.  I have received a lot of help from various organisations throughout my life and I would like to thank each and every one of them.
---
Charity Manager: Suzanne Roberts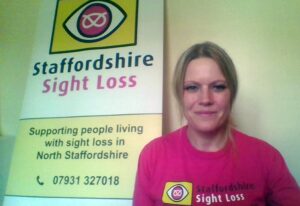 Our Founder and Charity manager, Suzanne Roberts is from Burslem in Stoke-on-Trent; she began working for Action for Blind People, a national Charity and part of the RNIB group in June 2013. She was based at their Hanley office and worked there for 4 years as an Independent Living Coordinator, which involved providing holistic one to one support services, organising and delivering confidence building courses and working with and managing volunteers.
Whilst working for the RNIB Group she also trained to be a Service Manager, completing her Level 3 qualification in Leadership and Management and working as a part time Service Manager for the Action for Blind People East Midlands Team at the RNIB College in Loughborough.
In 2017 Suzanne left the RNIB group and set up Staffordshire Sight Loss Association along with 5 other local volunteers. Suzanne was Chair of the charity from January 2018 until January 2020. This involved being involved in all aspects of running the charity, including planning and delivering services, organising events, funding applications, fundraising and governance.
In March 2020 she was appointed as Charity Manager. She is passionate about helping to make sure that Staffordshire Sight Loss Association's activities are led by the needs and wants of the community and that it delivers high quality, accessible services that make a positive difference for people's lives.
Suzanne is also a Welfare Rights advisor and has a Law degree (LLB (Hons)2:1) and Legal Practice Certificate. She lives with her partner and her one year old son, Arthur and loves spending time with her family.
---
Administrator: Stephen BrindleyI worked for a number of years as an Administrator at the Stoke On Trent Citizens Advice Bureau in Hanley. In 2015 I was diagnosed with cancer and finished my work there to focus on my recovery.
In May 2016 I began to volunteer for Action for Bind People where I worked with Suzanne as a Volunteer Administrator and in January 2019 I became a volunteer for Staffordshire Sight Loss Association. I was their sole Volunteer Administrator but also helped out with home visits, at social groups and events.
In May 2020 I was appointed as Administrator for the charity's new Independence and Wellbeing Project funded by the National Lottery Community Fund. I have witnessed firsthand the positive difference that the charity makes in people's lives and I am very proud to play a part in that.
---