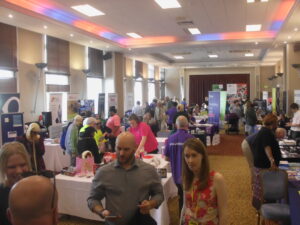 Our annual Staffordshire Sight Loss Awareness Day in Hanley is a must for your diary. Last year we brought together 29 different organisations all holding information stands to provide information about their services and products.
These included local, regional and national organisations and ranged from charities that provide services and organisations that produce daily living equipment to technology companies demonstrating the latest gadgets.
We listened to your feedback from last year's event and our next event will be bigger and better with more organisations, breakout areas to have a cuppa and a schedule of interesting speakers throughout the day.
Due to the Coronavirus our 2020 event has been postponed, we hope to be able to hold this later in the year but we will review this when possible. Check back for updates or sign up for our free quarterly newsletter to keep up to date with developments.